Energy Market Analyst
We're hiring! KYOS offers an exciting opportunity to join our team as an
Energy market analyst / consultant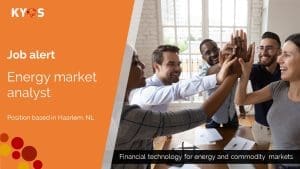 Are you interested to be part of the energy transition? Do you want to understand the challenges of the energy markets and make them visible to others? We have the ideal position for you. We are looking to expand our team with an energy market analyst /consultant. You will support the power market analysis with high quality analysis, research and reporting.
On a continuous basis you will support our clients who are using our fundamental model and other applications in the KYOS Analytical Platform. In addition, for different types of consulting projects, you will be part of our consulting team. All of this you will do in close collaboration with our quant analysis and development team.
Depending on your background and interest, you will have the freedom to sculpt this role into your dream job! You already have a few years work experience. What you don't have in experience yet, you make up for in enthusiasm and eagerness to learn. We really expect a genuine interest in the (European) energy market developments.
If you recognize yourself in this description, then send us your CV and motivation letter. This is your chance to make a contribution to an energy world in transition, which requires new solutions to become more sustainable. Sorry, no agencies please. And also, please confirm that you are an EU- citizen, or eligible to work in the EU.
About us
Our analytical software embedded in the KYOS Analytical Platform is based on a thorough understanding of energy markets and strong financial-mathematical algorithms. Our customers are mostly large international companies in the energy industry. They operate across Europe and beyond, and use our solutions to make optimal investment decisions, manage price risks, optimize the use of their assets (power plants, energy storage, renewable power projects and PPAs), make optimal trading decisions, and assess future market price scenarios.
Our customers use our software and approach us for individual consulting assignments. The challenges faced by energy market participants increasingly require a combination of quantitative models and a thorough understanding of market developments. All of this must be supported by high-quality data and continuous research. Your role as energy market analyst is at the center of this, and you will be in the lead for all activities around our fundamental power market model KyPF. With the model and a wide range of other analysis, you will create long-term power market scenarios, help our customers to understand these scenarios and how they impact their energy market operations.
We are an international team of 30 people, working on quant model development and a range of different international consulting projects. Our office is based in the center of Haarlem, the Netherlands, where most of our people are based. Haarlem is e.g. 15 minutes by train from Amsterdam.
Tasks Energy market analyst / consultant
You will be:
Closely following European energy market developments, perform meaningful analysis and report about your findings
Supporting our consulting projects with thorough analysis and interpretation
Creating analysis and decision support tools for ourselves and our clients
Responsible for maintaining our European energy market dataset used in our fundamental power market model, and driving its continuous development and expansion
Working with other models in the KYOS Analytical Platform, in particular for Monte Carlo simulations, PPA valuation and risk management, and battery valuation and optimization.
Part of a small but expanding team of energy market analysts / consultants
Reporting on a regular basis to our clients and subscribers to give meaning to current energy market developments
Having fun with your colleagues, both quant developers, energy market consultants and software developers.
Regularly working in international teams with clients, colleagues and other consultants
We expect that you have
A university degree (MSc or PhD) in a quantitative or economic field
A genuine interest in energy market developments
Strong analytical skills and attention to detail
Ability to translate research and analysis into useful information for decision makers
Quantitative mindset and good skills with Excel and statistical programs
Ability to work with Python or similar programming languages is a plus
A pragmatic problem-solving attitude and keen to take on new challenges
Good oral and writing skills in English.
Good team working skills, as you will be part of an international team.
Preferably at least three years of work experience in a similar environment and role
We offer
Competitive remuneration.
A strong and fun international team of colleagues to work with.
A full-time position, 40 hours/week (or less if you prefer)
Nice office along a canal in the center of Haarlem, 10 minutes' walk from the railway station
Please send your CV and motivation letter to info@kyos.com if you are personally interested in this opportunity.
Recruiters and other service providers / intermediaries: we explicitly request you not to respond and not to contact us via e-mail or phone.