EPEX bidding tool
Optimize day-ahead market bids on the EPEX SPOT Exchange
Trade more profitably in the intraday markets
Monetize flexibility while respecting all asset characteristics
Integrate with live forward curve builder and autotrader tools
KYOS has a long tradition of supporting traders and dispatchers to maximize the value from their flexible assets.
Most of the flexibility value is made in the day-ahead and intraday markets. The KYOS expertise has culminated in a dedicated software application for optimizing bids on EPEX SPOT Exchange, the leading European short-term power exchange.
Following the rules of EPEX, the KYOS software generates the optimal bid levels for power plants, separately for parents, children and families. It takes into account all actual production costs as well as all opportunity costs. In the intraday market, the EPEX bidding tool quickly provides detailed cost overviews. It therefore allows you to fully exploit the asset's flexibility.
Benefits EPEX Bidding Tool
1. Day-ahead market: what are the optimal bid prices?
On the day-ahead market, power plants make bids for a series of dependent and independent blocks. For power plant traders, it is a challenging task to find the optimal structuring and levels of these block bids. KYOS has fully adapted to the rules of the EPEX market, the leading European day-ahead market, to define the optimal bids.

2. Intraday market: what are the optimal trades?
The EPEX bidding tool also calculates the marginal production costs for a range of production levels. This helps traders decide at what levels to trade in the intraday market and hence reap additional gains from the asset.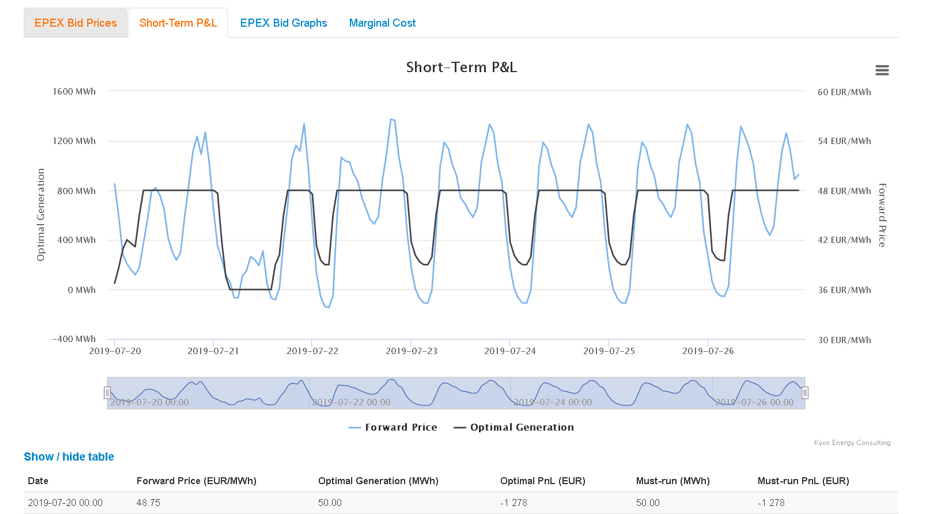 3. Operational: automate, be quick and avoid mistakes
Users can run manual calculations easily, but also fully automate all tasks. Automation helps for instance to smooth the straight-through processing from inputs such as technical and market data, to outputs. When you automate outputs like day-ahead bids and intraday trading decisions, it will reduce sharply the risk of operational mistakes.
Features
The EPEX bidding tool takes into account all actual production costs as well as all opportunity costs. You can enter these costs not only on parent level, but also for the subsequent levels. Optimize your bidding on both day-ahead an intraday market.
Of course we have fully integrated the EPEX bidding tool in the KYOS Analytical Platform. This has all the advantages of quick calculations in a user-friendly interface. For example, the EPEX Bidding tool works seamlessly with the Price Forward Curves generated by KyCurve.