KyPF Power Market Analysis – monthly update
Fundamental Power Market Analysis across Europe
KYOS will bring you every month the highlights of the fundamental price assessments of some European Power Markets. Additionally, we will focus on a particular market scenario and look at its impact on the power market in more detail.
KyPF Power Fundamentals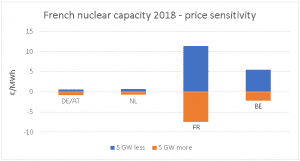 The KYOS power price assessments have been calculated with the fundamental power market model, KyPF. This model allows for a very detailed hourly optimization of all individual power plants in the market, including gas, coal, lignite, nuclear and hydro power stations.
The true flexibility of the assets is captured, optimizing between minimum and maximum load, using efficiency curves, and taking into account start costs.
This leads to a very realistic behavior of the individual power plants, very close to real market behavior. The model also optimizes the interconnection flows between the countries.
Monthly reports
KyPF Nr 1 December 2017 – Case Study France
More information?
KYOS valuation software is widely used in the energy industry. You can find more information about our fundamental models in our analytical platform on our price analytics page. Contact us for more information about the models and assumptions underlying this report, or to request a demonstration of the KYOS software via the form below or e-mail us: info@kyos.com.
Please let us know what you think about this report – we do hope you find it useful! Are you missing information? Or do you have other suggestions? We look forward to hearing from you!