Post event: webinar market update Spain
Webinar: Market update Spain: Risks for renewable assets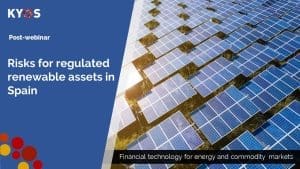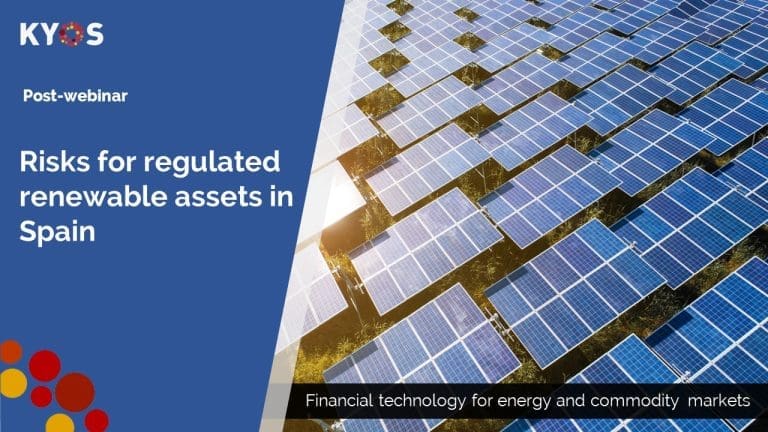 In this webinar we explained the market risk for Spain for owners of renewable assets. The recent changes in the subsidy scheme (Royal Decree (RD) 413/2014:10/2022) have quite an impact, as the market price is calculated differently. This market price consists of a basket of forward and spot prices. Previously it used to be only the average spot price. Ewout Eijkelenboom and Luiscarlos A. Torres Sánchez from KYOS discussed the market risk exposure of regulated assets in Spain and showed the impact of it with a case study.
See here the slide deck of the presenters: KYOS webinar market risk Spain
Question and answer document: FAQs Webinar risks for renewable assets in Spain 18 April 2023
Please also refer to the report March 2023 ES Basket risk assessment) where we explain our calculations and assumptions in further detail.
If you missed this webinar, but still would like to watch it, please let us know by sending your details to info@kyos.com.
Renewable asset valuation
In order to value your assets, you need a system that is able to capture all elements including PPAs. KYOS is the leading provider of analytical software and data services in European energy markets. We offer an unrivalled web-based software platform to value and optimize energy storages. It will also allow you to manage a complete portfolio of renewable assets and contracts. KYOS is also the number 1 provider of hourly price forward curves for European power.
Depending on your needs, you can customize the KYOS renewable risk management system to quantify the risk of your regulated renewable asset or portfolio of assets. Compare the cash-flows of the PPA with sourcing power directly from the market to assess profits or losses. Also assess different dynamic hedging strategies, such as stack-and-roll and proxy hedging. In short, you will get a complete picture of your portfolio, including related hedges.
Contact us for a free demo! Info@kyos.com