Webinar: Accumulators in commodity contracts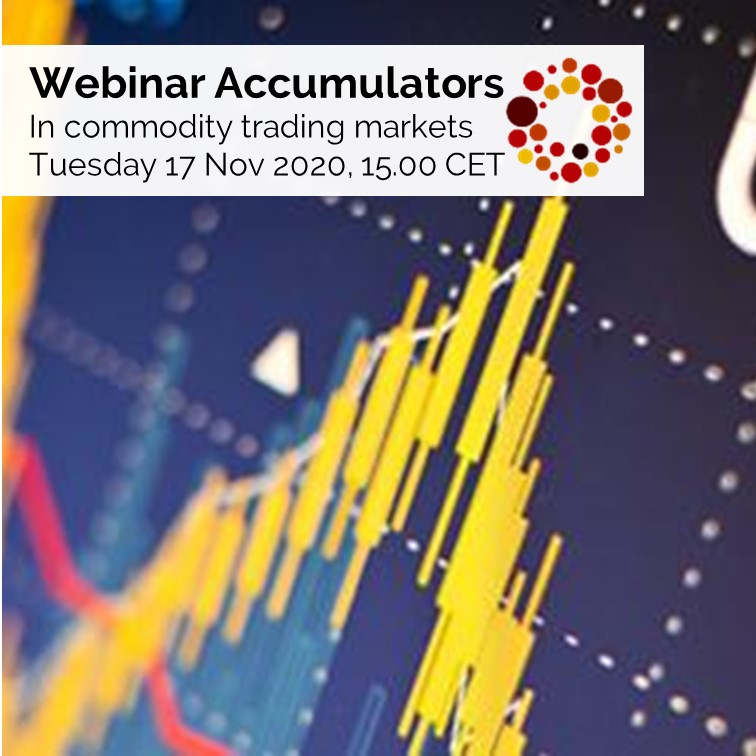 Join us on this unique webinar about accumulators in the commodity trading markets.
Accumulators are option products which have benefits to commodity producers and consumers, allowing them to 'accumulate' sales or purchase volumes over a period of time at an attractive price. They are actively used in various commodity markets, such as coffee, aluminium, corn, soybeans, wheat, sugar and cocoa.
Free webinar Accumulators
In this webinar you will learn how
their pay-off is calculated;
to assess their value;
they create opportunities or risks in your portfolio;
and how to manage accumulators on a daily basis in the KYOS software.
This webinar is for anyone active in the commodity markets, either as a producer, a consumer, a trader or an advisor.
For more information about our KYOS software and services for commodity risk management: CTRM software
Webinar Details:
Topic: Accumulators in the commodity trading markets
When: Tuesday 17 November 2020
Time: 15.00 CET
Duration: about 45 minutes
Speakers: Cyriel de Jong & Floris Hendriks, KYOS
This webinar is free of charge, and will be recorded. We will hold this webinar in Zoom, the day before the webinar you will receive the log-in details.
Sign up: