Post webinar Green Hydrogen
Best business cases for green hydrogen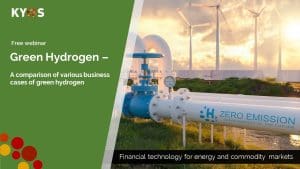 In the recently organized webinar on green hydrogen, Cyriel de Jong and Elyas Kazmi from KYOS discussed the best business cases. Green hydrogen is going to play a key role in the energy transition. Policy makers and market makers are working hard to make this happen. But which combinations of green power generation and electrolysis will be most competitive, in which countries, and at which cost differential to grey hydrogen?
To see the slide deck:KYOS geen hydrogen webinar 20231031
If you wish to receive the link to the recording, please contact us: info@kyos.com
KyH2 – A new model for hydrogen
In the webinar on green hydrogen, we already showed some of our new model KyH2. KyH2 is the latest addition to our suite of stochastic optimization and valuation models. It helps owners and developers of (green) hydrogen projects in assessing the income stream of their plant or project. This is key information for internal valuation purposes, to identify the best hydrogen opportunities in the market, for structuring and sizing projects, to evaluate the risks, and to report to investors and other stakeholders.
Ask us for support if you work on hydrogen business cases. We can help you with our hydrogen financial modelling expertise. Send us a quick e-mail: info@kyos.com
More information on financial aspects of renewable power
Have a look at the E-Book that Cyriel de Jong wrote on "The financials of renewable power and PPA's". It provides more insight in the various methods, for example used in long-term or short-term forecasting, creating simulations and price forecasts. Highly recommended! When you sign up for our newsletter, you will get free access to this E-Book.